Jane Austen Wishlist
By Anna Shura
The magnificent Jane Austen celebrated her 204th death day anniversary  on July 18th. A leading author for many centuries deserves our discussion and readership after all these years. This post goes out to the many Austen fans around the world. Whether you self-identify as an Austen fan and are looking to add to your collection of Austen goods or you are looking for a gift for a friend, The Strand has assembled a wishlist for you.
1. Jane Austen Notecards
https://strandmag.com/product/jane-austen-notecards-2/
This box holds witticisms from some of Ms. Austen's most beloved works. These beautiful notecards are perfect for writing down tea invitations.
2. Pride and Puzzlement: A Jane Austen Puzzle (1000 Piece Jigsaw Puzzle)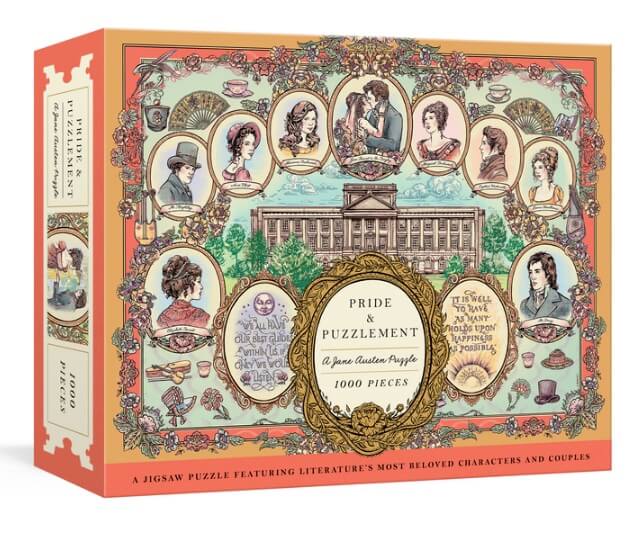 https://strandmag.com/product/pride-and-puzzlement-a-jane-austen-puzzle-1000-piece-jigsaw-puzzle/
Not only can you piece together this lovely puzzle, but you receive a frame-able poster too! Take a closer look at detailed illustrations of Austen's characters captured in this puzzle.
3. Jane Austen Framed Canvas
https://strandmag.com/product/jane-austen-frame-canvas/
Looking for some library decoration? A framed canvas of Ms. Literary Genius should do nicely.
4. Pour Your Heart Out Journal and Book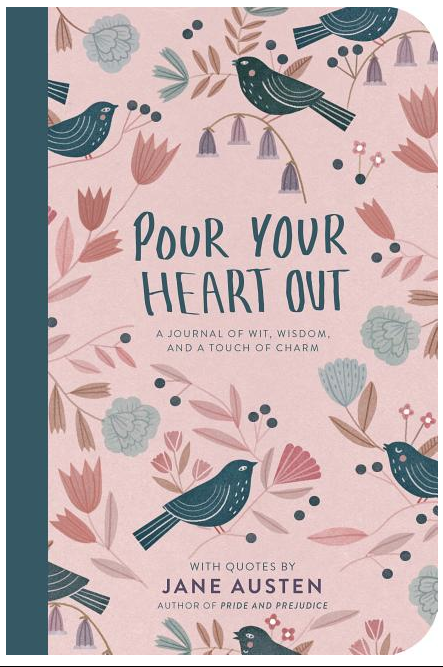 https://strandmag.com/product/pour-your-heart-out-jane-austen-pour-your-heart-out/
This book is full of wonderful Ms. Austen quotes along with illustrations and creative prompts. "Pour Your Heart Out" into this journal of "wit, wisdom, and a touch of charm"!
5. The World of Jane Austen: A Jigsaw Puzzle with 60 Characters and Great Houses to Find
https://strandmag.com/product/the-world-of-jane-austen-a-jigsaw-puzzle-with-60-characters-and-great-houses-to-find/
This puzzle includes a full poster of Austen facts and takes time to venture on a self-guided tour of the hills of Derbyshire to the Bath skyline.
6. Pride and Prejudice Jane Austen Note Cards
https://strandmag.com/product/pride-and-prejudice-jane-austen-note-cards-with-17-envelopes/
Starting an Austen book club? You must send out invitations on these lovely Pride and Prejudice note cards.
7. Jane Austen Tarot Deck
https://strandmag.com/product/a-jane-austen-tarot-deck-53-cards-for-divination-and-gameplay/
Okay, this deck of cards and box is truly sublime. Whether you would simply like to set out this gold foil stamped cigar box or discover your future in Austen themed illustrations, this Jane Austen Tarot Deck designed by Jacqui Oakley is wonderful.
8. Jane Austen Notebook
https://strandmag.com/product/jane-austen-notebook/
This notebook features one of Ms. Austen's many inspirational quotes, "Run mad as often as you choose." You can fill it with all of your mad adventures or maybe a wild reading list.
9. Pride and Prejudice Unisex T-Shirt
https://strandmag.com/product/pride-and-prejudice-unisex-t-shirt-navy-blue/
Display your love of Jane Austen in style with this T-Shirt. Stylish feathers and a delicate vase adorn this shirt against a navy background. You'll be the talk of Derbyshire in this T-Shirt!
10. Jane Austen Gift Set
https://strandmag.com/product/jane-austen-gift-set-limited-supplies/
And finally, if you simply cannot make up your find, this Jane Austen Gift Set provides a wonderful selection of goodies. Enjoy a box collection of Jane Austen's books and a Pride and Prejudice tote bag perfect for carrying them. If you ever find yourself at a loss for words, you can consult What would Jane do? a book of Austen advice, and finally, Tea with Jane Austen, a book of Austen inspired recipes is included in this excellent gift set.
Which Jane Austen gift catches your fancy? Let us know in the comments below!