The Best P.I. Novel Series of All Time
"Top P.I. novels? How could you even…?"
I know, I know.
It's tough; I get it. The private eye genre has been around forever, and there's really no way to come up with a definitive list, much less the so-called Top Ten. Private eyes are an essential part of crime fiction—how could anyone rank them? Well, I'm not going to. I'm not even going to list ten. What I am going to do, though, is list a handful of great, must-read P.I. series you should check out because they're excellent. I'm already jealous that you're going to be experiencing these for the first time.
My copies of the books mentioned below are worn: creased spines and folded pages. They made up the equivalent of a graduate degree in P.I. fiction and informed my own writing—specifically the Pete Fernandez my
steries I write for Polis Books. What do all of these books have in common? Relatable and original protagonists, memorable settings, and stories that strike the difficult balance between honoring past masters while still pushing the P.I. novel forward. These books are basically the DNA that makes up my own stab at the genre.
How'd I boil the list down? Glad you asked. Here are the loose rules I came up with when putting pen to paper:
Each series needed to have at least three installments.
These are my personal favorites, with little mind paid to previous lists of this type. I went with my gut. These are the books that made me want to write my own.
The list only includes modern P.I. fiction. (I get it. Sherlock Holmes is a private investigator. So is Hercule Poirot. But they don't make this list, okay? But do read Hound of the Baskervilles and Murder on the Orient Express if you haven't yet.)
Since the list is about private cops, it can't feature books from series that mostly feature real cops as the stars. So, for example, Michael Connelly's Lost Light doesn't count, as much as I love the Bosch series. It also means Ian Rankin's excellent Rebus series doesn't qualify. Neither do P.D. James's wonderful Adam Dalgliesh mysteries. Or Chester Himes's Gravedigger and Coffin books. But read those, too! That's another list for another time.
Look at this list as the ultimate P.I. primer. It isn't intended to be complete or definitive, but it should provide a great starting point for someone looking to get down and dirty in the seedy corners of some of the most dangerous cities in the country. Happy reading.
Matt Scudder by Lawrence Block
Ex-cop and recovering alcoholic Matt Scudder always keeps moving. From his debut as a hard-drinking New Yorker in the pages of Sins of the Fathers to the (possibly) final installment of the series, A Drop of the Hard Stuff, Scudder is faced with changing circumstances, new friends, deadly obstacles, and heavy choices. Block gives readers a consistently hard-boiled and no-frills dose of P.I. fiction while pushing the concept forward, layering Scudder's world with a cast of relatable characters—like barkeep Mick Ballou, irascible sidekick TJ, and ex-hooker and love interest Elaine—who create a impressive and consistent run of novels you'll never regret reading.
Must-reads: A Walk Among the Tombstones and When the Sacred Ginmill Closes
Robert B. Parker's Spenser, whose current adventures are written by the great Ace Atkins, starts off as a riff of Raymond Chandler's Marlowe but quickly evolves into his own unique take on the P.I. genre. Over the course of forty novels, Parker creates a tapestry of stories involving former Massachusetts state trooper and Boston boxer Spenser, a protagonist who sends out his fair share of mixed signals: chef and pugilist, sensitive soul and hard-nosed investigator. Equally gritty and witty, the Spenser novels can seem a bit daunting at first because of the sheer number—and they do lose a bit of steam toward the end of Parker's original run—but make for a worthwhile journey, regardless.
Must-read: Promised Land
Tess Monaghan by Laura Lippman
Ex-journalist-turned-P.I. Tess Monaghan isn't your typical boozin' detective, bemoaning her lot in life. With charm, bravery, and a bit of luck, Tess takes readers in and around Baltimore, with the city playing a key role in the series from page one. Lippman's strong characters and well-paced plotting make it seem easy, but a body of work so consistently strong and still able to surprise and engage can only be the work of a true master.
Must-reads: Baltimore Blues and Hush, Hush
Patrick Kenzie and Angie Gennaro by Dennis Lehane
Lehane's rough, street-wise prose and first-hand knowledge of Boston and its surrounding areas are key ingredients in this series, featuring the sometimes-couple Pat and Angie as they crawl through the bowels of their city to help those who fall through the cracks. Far from invincible, these two stellar protagonists show the wear and tear that comes from the hard choices they're forced to make, and it makes the ride feel that much more real.
Must-reads: Darkness, Take My Hand and Gone Baby Gone
Nick Stefanos by George Pelecanos
When we meet Nick, he's working a dead-end job at
an electronics store in our nation's capital and probably drinking and drugging a bit too much. By the end of this three-book series, which launched Pelecanos to greater heights, Nick's run the gauntlet and somehow survived, on the way taking readers on a dark journey that feels very real. Pelecanos's knack for local dialogue and love for his town and the music of the time combine to create a now-classic run of books.
Must-read: A Firing Offense
Philip Marlowe by Raymond Chandler
What more can you say about Marlowe? Chandler's unmatched ability to turn a phrase or crack a joke is just the tip of the iceberg, as he creates the template for the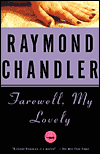 modern private eye with Marlowe: mysterious, fond of a drink or twelve, and not afraid to collect a few bruises on his way to solving a case, all while adhering to his own code of honor. A tainted knight patrolling the streets of post-WWII Los Angeles, Chandler's literary ambitions seep through the pulpy canvas to create a series littered with masterpieces.
Must-reads: The Big Sleep and Farewell, My Lovely
Lew Archer by Ross Macdonald
Like Parker's Spenser books, the Lew Archer series starts off in the shadow of Chandler but soon finds its own voice, with Macdonald's hero evolving from a stiff Marlowe copy into something much deeper. Macdonald's books go beyond the tropes of good vs. evil and take a deep-dive into the motivations that drive the people who come into conflict with the stern but not humorless Archer. Meticulously plotted and always spring-loaded with a surprise twist, Macdonald takes readers on a road trip through the psyche while not skimping on the bullets and brawls.
Must-reads: The Drowning Pool and The Zebra-Striped Hearse
Moe Prager by Reed Farrel Coleman
Poetic, brutal, and hard-boiled with a heart, the Moe Prager series is a master's class in P.I. fiction, with a unique and memorable star in Moe, the ex-cop-turned-private eye. Unlike many of his P.I. ancestors, Moe isn't a loner, alcoholic former homicide detective. He's a family man with a thriving business who happens to have a knack for solving crimes. But Moe also harbors a dark secret, and that informs every installment of this stellar series. Far from static, the series evolves and changes with its hero, which keeps readers on their toes from start to finish.
Must-read: The James Deans and Soul Patch
All done? Here are a few other private eyes you may want to follow, in no particular order:
Travis McGee by John D. MacDonald
Thorn by James W. Hall
V.I. Warshawski by Sara Paretsky
Brenna Spector by Alison Gaylin
Mike Hammer by Mickey Spillane
Easy Rawlins by Walter Mosley
Jackson Donne by Dave White
C.W. Sughrue by James Crumley
Paul Prye by Margaret Millar
–
Alex Segura is a novelist and comic book writer. His first two novels, Silent City and Down the Darkest Street, featuring Miami private eye Pete Fernandez, are available from Polis Books. Follow him at @alex_segura.