Top 5 Vacations through Puzzles
By Anna Shura
The past year has redefined what it means to stay-cation, and while the world is slowly coming back to normal, travel is not available for everyone yet. But don't worry! The Strand has the perfect way to travel from home. Check out these worldly puzzles for some travel inspiration:
1. New York City, USA
https://strandmag.com/product/michael-storrings-brooklyn-bridge-1000-piece-puzzle-in-a-square-box-2/
This Michael Storrings Brooklyn Bridge puzzle is one of many NYC puzzles offered by The Strand. The crowd of people in this puzzle will help you recall a world before six feet apart. Heat up a pretzel, DIY an "I <3 NYC" shirt", and piece together this iconic bridge!
2. Kyoto, Japan
https://strandmag.com/product/tranquil-zen-garden-in-kyoto-japan-1000-piece-jigsaw-puzzle-ginkaku-ji-temple-of-the-silver-pavilion-finished-size-24-in-x-18-in/
If you have taken more walks than ever before in this past year or would love to visit a relaxing garden, this 1000 piece puzzle is for you. Unless you are a puzzle wizz, you will probably need some time to build your Tranquil Zen Garden. Use this puzzle as a calming escape from daily stressors. Try heating up a nice cup of tea or sitting outside and allow this puzzle to transport you to the beautiful Temple of Silver.
3. London, UK
https://strandmag.com/product/portobello-road-1000-piece-puzzle/
Remember when we didn't buy everything on Amazon? Take a stroll down Portobello Road and browse through these quirky shops! This puzzle features nine detailed storefronts for you to window shop. Which shop is your favorite?
4. Paris, France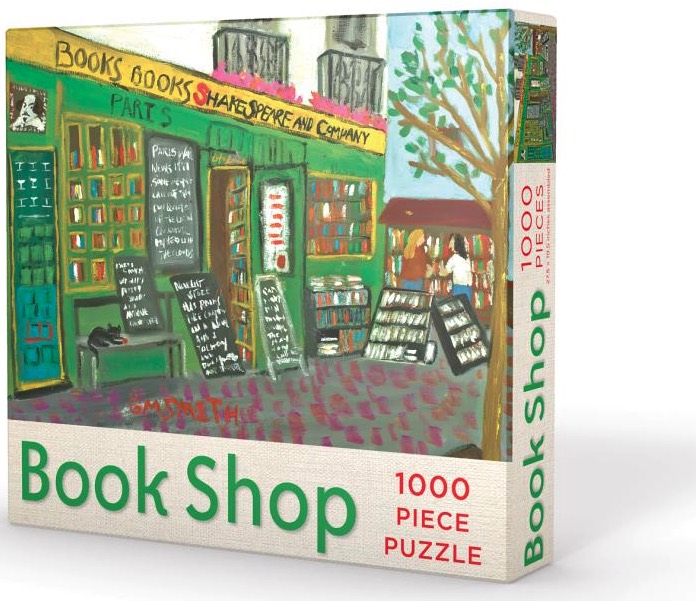 https://strandmag.com/product/shakespeare-and-company-bookshop-1000-piece-jigsaws/
"To be or not to be" meets "Bonjour!" Grab a baguette and your favorite Shakespeare book and construct the famous Shakespeare and Company Bookstore. This shop is located on the banks of the Seine near the iconic Notre-Dame. Check out this puzzle's description for a short history on this bookstore's founding.
5. Ireland

https://strandmag.com/product/story-map-of-ireland-500-piece-jigsaw-puzzle/
Go big and stay home- take on the whole of Ireland with this puzzle. The Story Map of Ireland is an intricate and well-known map featured in the Geography and Map Division of the Library of Congress. Complete with detailed portraits and landmarks along with a border based on designs from the Book of Kells and Book of Mac manuscripts this puzzle is gorgeous. Get lost in the history of Ireland when you construct this puzzle!
Make sure to tag us and post a picture of your completed Strand puzzles! We would love to see your puzzle adventures. Find us on Twitter @StrandMag, Facebook @StrandMagazine, and Instagram @StrandMag!